News in brief:
ANA's new business class really is very good
Back in July we wrote about ANA's new Business Class and First Class products, which are debuting on the Heathrow to Tokyo route.
This is worth knowing about because one of the best uses of Virgin Flying Club miles is redeeming on ANA flights from London.  You only need 95,000 miles for a return business class flight!
Using your Virgin Flying Club miles for a trip to Tokyo has just got a whole lot more interesting.  ANA is launching a new Business and First Class seat on its Boeing 777-300ER aircraft, and the London route has been the first to get it.  It looks rather good, to put it mildly.
The First Class suites are arranged in a 1-2-1 configuration.  Finished in dark woods, there are two only rows which make this an intimate cabin: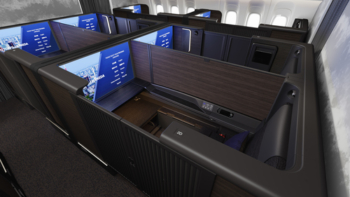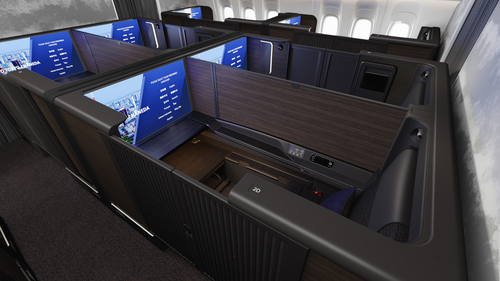 The seat almost takes the full width of the suite, with only a thin slither along the side given over to storage or as an armrest. There is also an exceptionally large 43" screen which has a 4K display – apparently the first time this has been used for a commercial aircraft.
THE Room is ANA's new Businesss Class product.  Club World style, half of the seats face forwards and half face backwards.
If you look at the photo below the first thing that will strike you is how disproportionately wide the seat is.  Look at the head rest.  You can see the protective cover, which is about what you'd expect the seat width to be. THE Room looks like it is twice as wide – more sofa-like than a seat! ANA says that THE Room has twice the width of their old business class seat (click for Anika's flight review) which is not hard to believe.
Of course, this is business class and the trade-off is that it does taper into a cubby hole where your feet end up.  Nonetheless, the extra width at torso and shoulder height should make sitting and sleeping in this seat feel a lot less cramped.  It is a very clever piece of design.
Last week I attended the media launch of THE Room, and there were seats available to try out.  It is, genuinely, huge.  At one point there were two of us sat side by side on the seat and we were able to have a normal conversation, with a decent bit of space between us!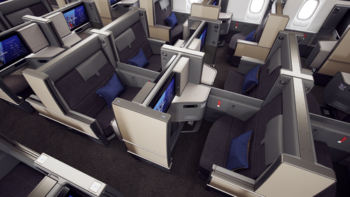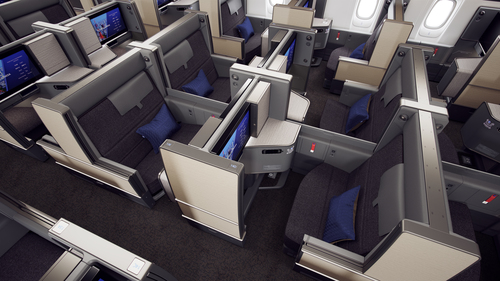 Not content with a sliding door, THE Room also has a second opening which slides up and down.  This allows the crew to pass food to you whilst the door is closed, getting around one of the biggest issues with Club Suite and Qsuite.  The 24 inch 4K TV also looked very impressive, although it was not operating.
If you need to head to Japan in the near future, I strongly recommend giving this a try.  It is currently on both of ANA's daily Heathrow services.  You won't earn Avios or BA tier points as ANA is a member of Star Alliance, although you can credit the flight to Virgin Flying Club.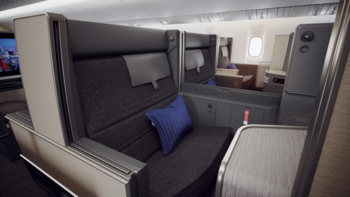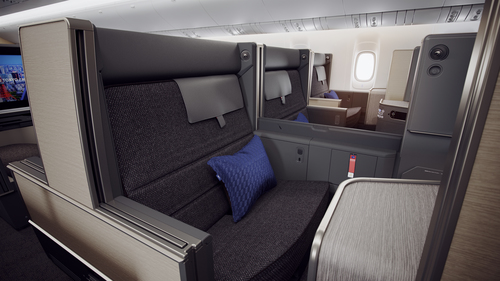 Hilton's first European LXR hotel, The Biltmore, now open
If you are looking for an upscale Hilton Honors property in London, there is a new option.
The Biltmore Mayfair is now open in Grosvenor Square – click here for details.  This is a top-to-toe refurbishment of the old Millennium Mayfair hotel and includes a Jason Atherton restaurant.
No-one seems too sure about what the new 'LXR' luxury brand is meant to represent, or how it is meant to sit alongside Conrad and Waldorf Astoria.  The only other LXR hotel is in Dubai and is a reflagged St Regis, so the design was 'inherited'.  Hopefully The Biltmore can give us a better feel for what the brand is about.
As a redemption, rooms cost 95,000 Hilton Honors points per night although availability does not seem to be loaded yet.  This is good value compared to typical cash rates of £500+.  How the hotel compares to Conrad St James or Lincoln Plaza at Canary Wharf (Hilton Park Lane is not 'luxury') remains to be seen.
Get a 40% bonus when you buy World of Hyatt points
Until 18th October, Hyatt is offering a 40% bonus when you buy World of Hyatt points via this link.
The minimum purchase for the bonus is 10,000 points.  The 40% kicks in immediately from 10,000 points – there is no taper.
40% is the most generous bonus you will see for buying Hyatt points.
This is obviously worth a look if you need to top up your account.  It may also be worthwhile if considering a stay in a top tier Park Hyatt such as the ones in Paris or Sydney, where buying the points may be cheaper than paying cash.
The new-ish Park Hyatt resort in Mallorca is a location where buying points makes sense.   Prices for cash are a little scary with rooms over €500 at peak periods.  A redemption at 25,000 points per night ($432 based on buying 50k for two nights) would be a better deal.
When I was at the Aircraft Interiors Expo trade show in Hamburg in April I bought points to stay at the Park Hyatt.  The fair had caused hotel rates to spike to over €500 and there was a substantial saving by buying 15,000 World of Hyatt points per night.  Unfortunately this hotel is now 20,000 points per night but buying would still have made sense.
The Hyatt 'buy points' site is here.
Click here to read or make comments on this article. Any corrections will appear here. To see all recent articles visit our home page.
Booking a hotel today? Click here for our summary of the best current hotel promos.
Looking for a new rewards credit card? Check out all the latest offers here.